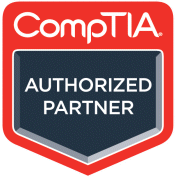 CompTIA Security+ Certification Training Class
with Exam Voucher
Security+ is the most sought after certification to be DoD 8570 / 8140 compliant.
Cybersecurity threats continue to increase in number and severity. New vulnerabilities are discovered on a near-daily basis, keeping both bad actors and information security professionals busy. The need for a secure network is growing daily, and the gap between the need for cybersecurity professionals and qualified IT personnel to handle those threats is one of the largest of any IT specialty. Gain the skills and knowledge to reduce that gap and establish yourself as a serious cybersecurity professional with CompTIA Security+ certification training from ONLC, a CompTIA Authorized Partner.
Security+ certification confirms baseline skills needed to perform core security functions and pursue an IT security career. Security+ incorporates best practices in hands-on troubleshooting to ensure security professionals have practical security problem-solving skills plus understand the latest trends and techniques in risk management, risk mitigation, threat management and intrusion detection. Cybersecurity professionals with Security+ certification know how to address security incidents, not just identify them.
According to CompTIA's website, cybersecurity specialist jobs are expected to grow at 25% and provide an average salary of over $98,000 (USD). Security+ is the most sought after certification for DoD 8570 / 8140 compliance and one of the most valuable fundamental IT certifications to possess.
Security+ training at ONLC follows a curriculum built toward certification and includes exam prep and exam voucher! Through real-world examples, hands-on labs and exercises led and supported by online professional instructors you'll be prepared to handle cybersecurity threats both offensively and defensively. Live, instructor-led Security+ classes are offered frequently to keep up with the demand for this very popular cybersecurity certification.
Security+ provides a solid foundation upon which one can move on to intermediate-level cybersecurity jobs. Prep for Security+ certification with high-impact training from ONLC!
Two Ways to Learn

Instructor-led Training (ILT) -or- On-Demand
Instructor-led Training (ILT ) classes are live, hands-on available at ONLC centers coast to coast

or your own location

. Training is fully interactive with an online instructor. Alternatively, On-Demand courses are self-study featuring a blend of video tutorials, labs and exercises. Train when you want with 24/7 access for a period of months. See Security+ classes, prices & schedule.
Security+ Certification

Cybersecurity skills are in high demand worldwide and Security+ (DoD 8570 / 8140 compliant) is one of the most popular. Our authorized Security+ training includes an exam prep, an exam voucher and our Exam Pass Guarantee

— all for certification success. These ONLC value-adds are included with our public, instructor-led training classes. See Security+ Learning Path.
Security+ Group Training

Ready your team for CompTIA Security+ with the skills and certification training they'll get with our group training options. Group training is highly effective and can be customized to meet specific objectives, schedules and budgets! Have the instructor online or in-person. For more and to receive a price quote based on your needs see Group Training

.
CompTIA Security+ Class Schedule, Locations & Prices
---
Click the title of the classes marked with the green flag (

) to see specific locations and dates of Ready to Run classes. Click the title of the classes marked with the yellow flag (

) to see specific locations and dates of Early Notice classes.
Class Information
Related
See all CompTIA classes at ONLC
CompTIA Security+ Prereq Bundles*
---
Our Security+ Prereq Bundles are for those who don't need Network+ certification but lack the networking background needed to pursue Security+ certification. Bundles include the Network+ course but not Network+ exam prep or voucher.
With a bundle you get Network+ training, Security+ training, Security+ Exam Prep AND a Security+ Exam Voucher—all at a discount! Pick the bundle with the learning format you prefer.
ILT = Instructor-led Training / OD = On-Demand self-study
Training Bundles

Complete
Network+ ILT & OD
Security+ ILT & OD

ILT
Network+ ILT
Security+ ILT

Prereq
Network+ OD
Security+ ILT

Security+ Practice
Network+ OD
Security+ ILT & OD

On-Demand
Network+ OD
Security+ OD

Live, Online Instructor-Led Training

CompTIA Network+

✔

✔

—

—

—

CompTIA Security+

✔

✔

✔

✔

—

On-Demand Training

On-Demand Network+

✔

—

✔

✔

✔

On-Demand Security+

✔

—

—

✔

✔

Certification Extras

✔

✔

✔

✔

✔

✔

✔

✔

✔

✔

Retail Total:

$7,580

$4,900

$3,790

$5,085

$2,590

Training Bundle+Certification Extras

$5,295

$3,995

$2,795

$3,795

$1,795
Purchase Your Bundle Today!
Bundles are available for purchase via our toll free number. We accept all major credit cards. To purchase contact an ONLC Advisor...
1.800.288.8221
(weekdays)
or complete the below form and we'll contact you!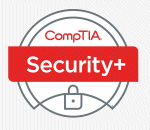 Security+ Certification Learning Path
IT security is paramount to organizations. With the massive amounts of data transmitted and stored throughout the world, it's essential to have effective cybersecurity practices in place.
CompTIA Security+ certification validates baseline skills needed to perform core security functions and pursue an IT security career. Some of the job roles that may prefer or require this certification include:
Systems Administrator
Network Administrator
Security Administrator
Junior IT Auditor/ Penetration Tester
Security Engineer
To achieve Security+ certification candidates must pass the authorized exam. You can prepare for the exam by attending the training listed below.
Recommended Prerequisite
CompTIA recommends that Security+ candidates have at least two years of technical networking experience with an emphasis on security such as in CompTIA Network+

. Get both Security+ and Network+ training at a discount with our money-saving Security+ Prereq Bundles

.
Authorized Live, Instructor-led Course
(click course title for outline & class dates)
CompTIA Security+ Certification Training
This online instructor-led training (ILT) is live and hands-on and is the prep for exam SY0-601.

—OR—
Authorized On-Demand Course
(click course title for outline)
CompTIA On-Demand Security+ Certification Training
This is self-study, self-paced training and is the prep for exam SY0-601.


Certification Exam
SY0-601
CompTIA certification exams are performance-based to confirm a candidate's knowledge, skills, and abilities using the program. CompTIA exams are available through Pearson Vue, CompTIA's authorized testing partner, Exam candidates schedule their exam directly with Pearson Vue and may attend from any of Pearson Vue's Testing Centers or online.
Next Step after Security+
Once you've earned Security+ Certification, further your skill level in the field of IT Security with CompTIA CySA+ Certification

for defensive skills or CompTIA PenTest+

for offensive skills. Although the two certifications teach skills from opposing sides, they are dependent on one another and the most qualified cybersecurity professionals will have both offensive and defensive skills. These intermediate-level certifications help bridge the skills gap between CompTIA Security+ and CompTIA Advanced Security Practitioner (CASP+) to create a vendor-neutral certification path.
News & Offers

ONLC is a CompTIA Authorized Partner
ONLC Training Centers is a CompTIA Authorized partner. CompTIA certifications help identify qualified, knowledgeable individuals in fields of Information Technology (IT). ONLC's schedule includes classes that will help you prepare for the CompTIA A+, Network+, Cloud+, Linux+, Security+, CySA+, PenTest+, CASP+, Server+ and Project+ certifications.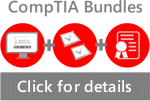 CompTIA Certification Exam Bundles
With our CompTIA Certification Exam Bundles you'll get a discount on training, exam prep software and exam vouchers. You pick the certifications and the training format you prefer—instructor-led classes, self-study On-Demand or a mix! Find out more


Exam Pass Guarantee
ONLC is committed to the success of our students. We are so confident in the training you'll receive with us that for training that includes an exam prep and exam voucher as part of your purchase, we have an Exam Pass Guarantee. Learn more.

Security+ Group Training
ONLC offers complete solutions so training coordinators can successfully upskill their teams while maintaining their budget. Training can be via our public schedule or private sessions delivered virtually or in-person / on-site. When private, content can be customized to meet the client's specific needs and technologies. To request a price quote complete our quick Group Training Request form

or call 1.800.288.8221 (weekdays).


General Information: DoD 8570 / 8140 Directive
ONLC provides training classes for IAT, IAM, IASAE and CSSP personnel that's compliant with Department of Defense (DoD) Directive 8570 / 8140. Train for DoD approved classes at any of ONLC's hundreds of training centers coast-to-coast or from your own location. More on DoD 8570 / 8140

More Cybersecurity Classes at ONLC
ONLC offers other security-related classes like Ethical Hacking, CISSP and more. See other cybersecurity training.
Recertification / CompTIA CE Program
A+, Network+, Security+ and CompTIA Advanced Security Practitioner (CASP) certifications have globally-recognized ISO/ANSI accreditation status. As part of the accreditation requirements, these certifications expire every three years if not renewed. You can renew these certifications through the CompTIA CE Program which includes completing continuing education activities. Review CompTIA Continuing Education (CE) Program requirements and approved courses. Note, if your certification is not renewed within the three years, your certification will expire and you will need to pass the current version of the exam to regain certification.

For More Information
For more about our training classes, professional computer certification or for personal guidance contact our Education Advisors weekdays via chat or by phone at:
1.800.288.8221
(weekdays)

Top of page
* Bundle Terms and Conditions
All prices are US Dollars.
Bundles are good on new registrations only and limited to the specific titles listed.
Bundles may not be combined with any other discounts, offers or programs.
Full payment is required at the time of purchase. Bundles are non-refundable, non-transferable.
CompTIA courseware is provided in digital format only.
Network+ training does not include exam prep software or exam voucher.
The Security+ exam voucher will be sent to purchaser once a passing score on the Security+ exam prep has been achieved. It is handled this way because exam vouchers are only good for a limited time. Sending the voucher only when you're ready for the exam will maximize your window for taking the authorized exam. ONLC will not replace lost, stolen or expired exam vouchers.

CompTIA On-Demand courses and course codes:
A code may not be redeemed for cash, credit, or refund. Codes are not returnable and are void if altered.
You will have 6 months access to the specific CompTIA On-Demand courses in the bundle you purchase.
A code may only be used once. After it has been redeemed, a code cannot be reused.
Code is specific to the purchased course title and limited to one person.
Expired, stolen, or lost codes will not be replaced. ONLC Training Centers and any hosting partners are not responsible for lost or stolen codes.
Course expiration dates for a given code will not be extended under any circumstance.
May not be applicable from Android or iOS devices. Additional regulations and policies may apply.
** ONLC reserves the right to retire courses and course versions due to lack of demand and expected retirement by the vendor. Such classes are no longer available for the free retake option.
Locations