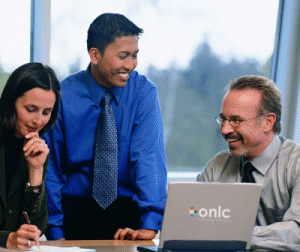 ITIL® Training Classes & Certification
Information Technology Infrastructure Library ( ITIL® ) is a framework of best practice guidelines and approaches intended to facilitate the delivery of high quality information technology (IT) services. ITIL outlines an extensive set of management procedures to support businesses in achieving both quality and value for money in IT operations. These procedures are supplier independent and have been developed to provide guidance across IT infrastructure, development, and operations.
ITIL courses at ONLC include an exam voucher—up to a $495 value!*
Our ITIL 4 Foundation certification training course introduces students to the fundamentals of IT Service Management ( ITSM ) as described in version 4 of the IT Infrastructure Library. ITIL 4 Specialist, Strategist, and Managing Professional Transition classes are also available. This training will help students prepare for certification along with learning practical and flexible end-to-end IT/digital operating model for the delivery and operation of tech-enabled products and services that enables IT teams to continue to play a crucial role in wider business strategy.
Prepare for ITIL Foundation certification with ONLC's quality instructor-led or On-Demand self-study training courses.Start adding value to your professional status today!
Instructor-led Training (ILT)

ILT classes are live and hands-on. Training is fully interactive via remote instructor. Attend ILT classes at any of ONLC hundreds of training centers

or from your own location

with a very easy setup. See instructor-led ITIL classes.
On-Demand Training

On-Demand courses are self-study, self-paced. You'll have 24/7 access for six months to the eLearning course which includes videos, expert lectures, supporting visuals and demonstrations. Access the digital course from any device with internet access. See On-Demand ITIL courses.
Private Training

Larger organizations adopting ITIL best practices should consider our private group training solutions to save both time and money. Course customization and onsite training are just some of the options available. More about Private Group training

ITIL: Instructor-led Courses
Click the title of the Google Workspace training certification courses marked with the green flag (

) to see specific locations and dates of Ready to Run classes. Click the title of the classes marked with the yellow flag (

) to see specific locations and dates of Early Notice classes.
Class Information
ITIL On-Demand: eLearning Courses
NOTE: The "Days" column refers to amount of content, NOT access duration to the self-study course. You'll have six months access from the date the On-Demand course is purchased..
Class Information
ITIL Exam Voucher Included!
ONLC includes an exam voucher with ITIL courses—a value of up to $495!* Students receive the exam voucher to pay for the exam following training. Students schedule their exam directly with PeopleCert

. ITIL exams can be taken at one of their approved testing centers or online proctored.
ITIL Letter of Attendance
Per AXELOS guidelines, training centers may not issue a Certificate of Completion to any ITIL students. However, should it be needed ONLC is permitted to issue a letter confirming course attendance only. Students who have attended ITIL training at ONLC may request a confirmation letter.
ITIL Certification

What is ITIL Certification?
ITIL outlines an extensive set of management procedures that are intended to support businesses in achieving both quality and value for money in IT operations. These procedures are supplier independent and have been developed to provide guidance across the breadth of IT infrastructure, development, and operations. All certifications begin with ITIL Foundations.
ITIL Foundation Certification
The Foundations Certificate enables people to understand the terminology and key practices used within ITIL. It provides an awareness of the ITIL Service Value System, including Guiding Principles, Governance, the Service Value Chain, Continual Improvement, and key ITIL Practices, across the Four Dimensions.
More ITIL Certifications
Once you've earned Foundation Certification you can advanced your status with these ITIL Specialist and ITIL Strategist courses and corresponding exams:
ITIL Specialist: Create, Deliver, and Support
ITIL Specialist: Drive Stakeholder Value
ITIL Specialist: High Velocity IT
ITIL Strategist: Direct, Plan, and Improve

Successful completion of the above four (4) courses & exams earns the candidate ITIL 4 Managing Professional designation.

NOTE: For existing ITIL Experts and those with 17 credits in the ITIL 3 scheme, there is a Managing Professional Transition course that prepares a candidate to move directly to the new ITIL Managing Professional.
News & Offers

Education Advisors to Help You
Our advisors can assist you with questions about our classes, vendor certifications and discount options plus help you select training that is right for you. For assistance, contact our Education Advisors toll free in the USA at 1-800-288-8221 (weekdays).

Training Locations Coast to Coast
ONLC provides live, hands-on classes with an online instructor at our hundreds of training centers coast to coast. Our centers are fully equipped and provide an interruption-free environment to focus on learning. Find ONLC centers near me

.

ITIL Classes from Home
You can attend our live, instructor-led classes from the comfort and convenience of your own home. The setup is really easy and you don't have to have the class software on your device. Follow our easy setup video

. If still unsure about the virtual setup contact an ONLC Advisor toll free for personal assistance.

For More Information
To register for class or should you have questions please contact our Education Advisors via chat or toll free weekdays at:
1.800.288.8221
(weekdays)
All ITIL® online courses are offered by CareerAcademy.com AFFILIATE of AXELOS Limited.
ITIL® is a registered trade mark of AXELOS Limited, used under permission of AXELOS Limited. All rights reserved.
* ITIL exam value varies with course selection.
Locations