CySA+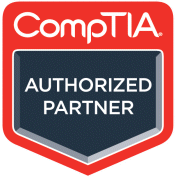 CompTIA CySA+ Certification Training Class with Exam Voucher
CySA+ applies behavioral analytics to improve overall IT security which is important because attackers have learned to evade traditional solutions like firewalls and antivirus software. The range of threats IT cybersecurity pros encounter is incredibly broad, so having a vendor-neutral approach is often best.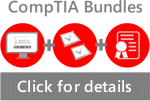 CySA+ certification verifies skills required to configure and use threat detection tools, perform data analysis, and interpret the results to identify vulnerabilities, threats, and risks to an organization with the end goal of securing and protecting applications and systems within an organization. This intermediate-level certification is DoD 8570 / 8140 approved and it bridges the skills gap between CompTIA Security+ and CompTIA Advanced Security Practitioner (CASP+) certifications.
ONLC is a CompTIA Partner providing authorized CySA+ classes. Training is directed and supported by professional instructors with decades of experience in IT Security and teaching. The course is immersed with hands-on exercises, labs and real-world examples so you'll be ready to support a variety of products and understand how to make them work together seamlessly to provide the best security. Built towards certification, ONLC's CySA+ course comes with an exam prep and exam voucher!
Instructor-led Training (ILT)

ILT classes are live hands-on training sessions led and supported by professional instructors. Attend ILT classes from your own location

using your own equipment OR from any of ONLC's hundreds of centers coast to coast

for an interruption-free environment. Training is fully interactive via remote instructor no matter what venue you choose .
CySA+ Certification

Cybersecurity skills are in high demand. Earning CompTIA CySA+ certification confirms you have those skills. The authorized training you get at ONLC will help you prep for the CySA+ certification exam and the included exam prep and exam voucher will further ensure your success! See CySA+ Learning Path.
CySA+ Group Training

Ready your team for CySA+ certification with our group training solutions that save both time and money. Training can be public or private with instruction virtually or in-person. We can even customize course content to meet specific learning objectives, schedules and budgets! To learn more and to request a price quote see Group Training

.
CySA+ Certification Classes, Schedule & Prices
Click the title of the Adobe Captivate certification training courses marked with the green flag (

) to see specific locations and dates of Ready to Run classes. Click the title of the Adobe Captivate certification training courses marked with the yellow flag (

) to see specific locations and dates of Early Notice classes.
Class Information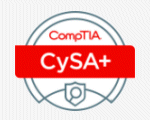 CySA+ Certification Learning Path
CompTIA Cybersecurity Analyst, abbreviated as CySA+, is a vendor-neutral IT professional certification that proves competency in security skills for threat management, vulnerability management, cyber incident response, security and architecture tool sets. To achieve this certification you must pass the designated CompTIA authorized exam.
Prepare for the authorized exam by attending ONLC's CySA+ training. Get a CompTIA exam voucher with the class!
Authorized Course
(click course title for outline & dates)
CompTIA CySA+ Certification Training (with Exam Voucher)
In this course, you will expand your knowlege of information security and develop skills in the areas of threat management, vulnerability management, cyber incident response and architecture tool sets. You'll use some open-source analytics tools and there will be threat scenarios. A CompTIA exam voucher is included with the class! View outline & dates
Note: CySA+ certification is intended to follow CompTIA Security+

and recommended before pursuing CASP+

certification.
Certification Exam
CS0-002
Students schedule when and where they will take the CySA+ exam directly with Pearson Vue, CompTIA's approved test provider. This is a performance-based exam that includes hands-on simulations requiring test-takers to perform security analyst job tasks during the exam.
Review CS0-002 exam objectives

.
ONLC Bonuses for CySA+
Along with outstanding instructor-led training, CySA+ certification candidates training with ONLC can get these bonuses:
CompTIA CySA+ Exam Prep Software
CompTIA certification exams are very rigorous and challenging. All of our CompTIA classes include access to web-based practice exams. By continuing to study after the class and doing the practice exams, you will greatly improve your chances of passing the authorized certification exams the first time. Exam prep software is included with all CompTIA classes delivered by ONLC Training Centers.


CompTIA CySA+ Exam Voucher (up to a $359 value!)
All CompTIA classes at ONLC include an exam voucher which is used as payment to take the authorized certification exam.


Optional Class Retake (ILT classes only)*
Need a second look at an ILT course you attended with ONLC? Our optional refresher course lets you repeat the same course one time (1x) for free. Some restrictions apply and not applicable for On-Demand courses. See details .


ONLC's Exam Pass Guarantee
We are so confident in the CySA+ training you'll receive from ONLC we include our Exam Pass Guarantee. If you do not pass the authorized exam after scoring at least 85% on the corresponding Practice Test we'll give you an additional exam voucher at no charge. Review details and requirements .

When you train with ONLC you'll gain a broad and competitive set of IT cybersecurity skills. Key job roles that often look for CySA+ certification include:
Security Analyst
Security Operations Center (SOC) Analyst
Vulnerability Analyst
Cybersecurity Specialist
Threat Intelligence Analyst
Security Engineer
News & Offers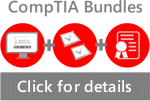 CompTIA Certification Exam Bundles
With our CompTIA Certification Exam Bundles you'll get a discount on training, exam prep software and exam vouchers. You pick the certifications and the training format you prefer—instructor-led classes, self-study On-Demand or a mix! Find out more


Exam Pass Guarantee
ONLC is committed to the success of our students. We are so confident in the training you'll receive with us that for training that includes an exam prep and exam voucher as part of your purchase, we have an Exam Pass Guarantee. Learn more.

ONLC is a CompTIA Authorized Partner
ONLC Training Centers is a CompTIA Authorized partner. CompTIA certifications help identify qualified, knowledgeable individuals in fields of Information Technology (IT). ONLC's schedule includes classes that will help you prepare for the CompTIA A+, Network+, Cloud+, Linux+, Security+, CySA+, PenTest+, CASP+, Server+ and Project+ certifications.

Compliant with Department of Defense (DoD) 8570 / 8140 Directive
ONLC offers hands-on, instructor-led certification training classes that are compliant with the Department of Defense (DoD) Directive 8570 / 8140 including A+, Network+, Security+, CASP+, CEH, CND and CISSP. For details review Directive 8570 / 8140 certification details or contact our our Education Advisors at our toll free number.
Recertification / CompTIA CE Program
A+, Network+, Security+, CySA+ and CompTIA Advanced Security Practitioner (CASP) certifications have globally-recognized ISO/ANSI accreditation status. As part of the accreditation requirements, these certifications expire every three years if not renewed. You can renew these certifications through the CompTIA CE Program which includes completing continuing education activities. Review CompTIA Continuing Education (CE) Program requirements and approved courses. Note, if your certification is not renewed within the three years, your certification will expire and you will need to pass the current version of the exam to regain certification.

Questions / More Information
For more about training classes, professional computer certification or for direct guidance contact our Education Advisors weekdays via chat or by phone at:
1.800.288.8221
(weekdays)
Locations