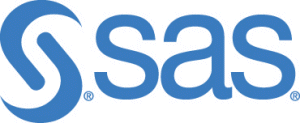 SAS Training Classes
Developed by SAS Institute, SAS is an integrated system of software solutions that enables you to perform programming and data management, import and export raw data files, manipulate and transform data, report writing plus statistical and mathematical analysis. You can use SAS software through both a graphical interface and the SAS programming language, or Base SAS. It relies on user-written scripts or "programs" that are processed when requested to know what to do. SAS is flexible. It can read data files created in other statistical packages and provide a variety of output formats. It has numerous procedures for descriptive, inferential, and forecasting types of statistical analyses.
With SAS training at ONLC you'll come up to speed quickly with this technology. There are many job opportunities for those with SAS skills as SAS is used in virtually every market around the globe.
Instructor-led Training (ILT)

ILT classes are live and hands-on training. Training is fully interactive via remote instructor . Attend ILT classes from your own location

using your own equipment OR from any of ONLC's hundreds of centers coast to coast

for an interruption-free environment.
ONLC Value Adds

You get more with ONLC. Train with confidence knowing ONLC has a money-back satisfaction guarantee

plus see a class a 2nd time with our optional free refresher course

. These ONLC value-adds are available when students attend our public, instructor-led training classes.
Group Training

Get your team up to speed on SAS with group training from ONLC. We have several training options and can customize content to meet your specific needs, schedule and budget! For more and to receive a price quote
see Group Training

.
SAS Class Schedule
Click the title of the classes marked with the green flag (

) to see specific locations and dates of Ready to Run classes. Click the title of the classes marked with the yellow flag (

) to see specific locations and dates of Early Notice classes.
Class Information
News & Offers

Volume Discounts with ONLC Learning Credits
Get maximum buying power and flexibility with ONLC Learning Credits. They're a great way tosecure a substantial volume discount on end-user and technical courses and can be used for live, instructor-led & self-study, On-Demand learning formats. Credits are good for up to a year! See details & pricing

.

Training Locations Coast to Coast
ONLC provides live, hands-on classes with an online instructor at our hundreds of training centers coast to coast. Our centers are fully equipped and provide an interruption-free environment to focus on learning. Find ONLC centers near me

.

Live Classes from Home
You can attend our same live, instructor-led classes from the comfort and convenience of your own home. The setup is really easy and you don't have to have the class software on your device. Follow our easy setup video

. If you're still not sure about the setup after watching the video contact an ONLC Advisor toll free for assistance.

Education Advisors to Help You
Our advisors can assist you with questions about our classes, vendor certifications and discount options plus help you select training that is right for you. For assistance, contact our Education Advisors toll free in the USA at 1-800-288-8221 (weekdays).
Questions?
To learn more about ONLC's classes or in the event of questions contact our Education Advisors via chat or by phone weekdays at:
1.800.288.8221
"SAS and all other SAS Institute Inc. product or service names are registered trademarks or trademarks of SAS Institute Inc. in the USA and other countries. ® indicates USA registration.
All other trademarks mentioned in this document or Web site are the property of their respective owners."
Locations