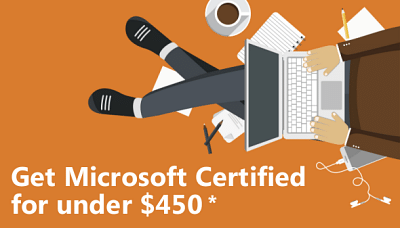 Microsoft On-Demand Courses
Self-study IT Training
Microsoft On-Demand self-study courses blend video, text, hands-on labs and more to help you build your technical Microsoft technology skills. These eLearning courses align to Microsoft's technical certifications and let you learn and train on your own schedule, at your own pace, from your own place!
Microsoft On-Demand titles can be the right solution for both seasoned IT professionals and those new to the industry. IT Pros can focus on new information and bypass sections they already know. Newbies can learn at their own pace and repeat sections as often as needed to reinforce understanding and learning. With your own computer and Internet connection, you're ready to learn Microsoft technical programs On-Demand to have skills that can put you in-demand!
(Prefer instructor-led certification training? Click here.)
Certification Exam Pak—50% Savings!
Purchase a Microsoft On-Demand course and opt for our Exam Pak for just $250 more—50% off the retail value for these same components. Course and optional Exam Pak must be purchased together. This money-saving opportunity is perfect for those going for professional Microsoft certification. The Exam Pak includes:
Exam Pak must be purchased by phone in tandem with a Microsoft On-Demand course at list price. Some restrictions and limitations apply. See Exam Pak Terms & Conditions.

To learn about Microsoft technical-level credentials and for learning paths see Microsoft certifications

or contact ONLC Education Advisor for guidance.
Microsoft On-Demand Courses Feature...
DIGITAL CONTENT

You'll have access to the digital course content for an extended period of time. On-Demand courses typically include video tutorials, live labs, assessments and digital courseware.

ACCESS ANYWHERE, 24/7

Connect to your course any time and from anywhere via the internet. You will have access to your Microsoft On-Demand course 24/7 for a set period of time.
May not be applicable from Android or iOS devices.
HANDS-ON LABS

These are NOT online demonstration courses. You work hands-on with the real software—just as you would in our instructor-led classes in a live, real-time environment.
SAVE TIME & MONEY
This high impact training costs less, reduces time out of the office plus saves the time and money you'd spend traveling to a center for training.
KNOWLEDGE CHECKS

Students do knowledge checks at the end of a section to confirm if they've mastered the content and are ready to move on.
ILT LISTENER (limited offer)

Audit the live, instructor-led class as a Listener for free! You'll see and hear the instructor's class presentation to reinforce understanding. See Details

.
Available Microsoft On-Demand Courses
(Multiple Sections by Topic)
DURATION: "Days" column is content amount, NOT access duration to the course. Course access is multiple months. As this detail varies by title it is specified on the course outline which can be viewed by clicking a blue course title below.
SYSTEM NEEDS: Review System Requirements

before purchasing. On-Demand classes are done from your own location using your own equipment and internet service.
PAYMENT: Full payment due at the time of order. All prices are US Dollars. ONLC accepts all major credit cards. Allow up to 48 hours (excluding weekends and holidays) to receive course access instructions via email after purchasing.
TAX: On-Demand courses may be taxable, varies by state and is determined by your location. Any applicable tax is in addition to our listed course price.
BONUS: Buy a Microsoft On-Demand Course and you can purchase the Optional Exam Pak for just $250—50% off the retail value!
Azure
Class Information
---
Microsoft 365
Class Information
---
Power Platform
Class Information
---
Security
Class Information
---
Related
Many of these same titles are available as live, instructor-led training (ILT) format. Click the training topic on our Courses page

.
Microsoft On-Demand Courses Include:
Below is what is typically included with a Microsoft On-Demand Course. There may be some variation between titles. Specific details are provided in the course outline.
Access for a set period of time. You can retake select parts or even redo the entire on-line course as much and as often as you want within that time period.


Course videos and manual in digital format. You will have access to the course manual beyond the duration of the course.


Hands-on practice exercises. Exercises include provided datasets that take users through typical scenarios encountered using the software. These are NOT online demonstration courses. You work hands-on with the real software—just as you would in our instructor-led classes in a live, real-time environment.


Well-documented and illustrated descriptions and examples of features and tools from the software.


Step-by-step procedures that establish workflows for end-users.


Command summaries for quick-reference when using the software.


Graded review questions to validate your understanding.


Keyword search functionality that will return learning elements (i.e., course topics) related to search terms. Search will be full text search through the content.


Reporting to track your progress and proficiency improvements.


ILT Audit Option available for the equivalent instructor-led course.

Review Microsoft On-Demand Terms and Conditions for details.
To Purchase Your Microsoft On-Demand Course
Full payment is required at the time of order. ONLC accepts major credit cards.
Web order a course by clicking a blue course title above. If you want to purchase the optional Exam Pak along with the Microsoft On-Demand course you will need to order via phone. Contact an ONLC Advisor weekdays at...
1.800.288.8221
(weekdays)
Other Information

ONLC Education Advisors for Certification Guidance
Our Education Advisors can answer questions you may have about training with ONLC and Microsoft certification. Our knowledgeable Education Advisors are available weekdays at our toll free number or via CHAT.

Group Training for Microsoft Titles
ONLC has complete training solutions so coordinators can successfully upskill their group while maintaining their budget. Live, instructor-led training can be via our public schedule or private sessions delivered virtually or in-person on-site, or a combination of self-study and live training. Content can be customized to meet the client's specific needs and technologies. For more on how we can minimize your costs and employee downtime while maximizing learning complete the group training request form

.

Volume Discounts with ONLC Learning Credits
Get maximum buying power and flexibility with ONLC Learning Credits. They're a great way to prepay for training plus secure a substantial volume discount on end-user and technical courses. Credits can be used on live, instructor-led & self-study, On-Demand formats. Credits are good for up to a year! See details & pricing

.
* ILT Listener Terms and Conditions
Good only with purchase of a Microsoft On-Demand course from ONLC.
ILT Listener class must be within 12 months of Microsoft On-Demand course purchase.
Candidate must call ONLC to request seat in upcoming ILT class. ILT course must be equivalent title of the purchased Microsoft On-Demand course.
As an ILT Listener you will be able to see and hear the instructor's class presentation. You will not have access to the instructor nor the lab machines.
Listener must use own equipment, internet service and attend ILT class from their own location.
All ILT Listener class requests are subject to availability and not applicable for any partner-delivered ILT classes.
ONLC reserves the right to discontinue this option at any time without prior notice.