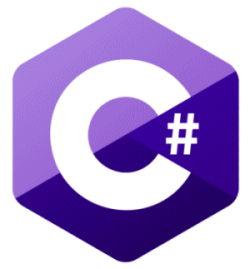 C# Programming Classes
C# (pronounced C Sharp) is a general-purpose, object-oriented computer programming language. C# was designed for building a wide range of applications and it is favored among developers as it's especially easy for building Windows desktop applications and games. Developed by Microsoft, C# can be applied to any open source platform.
C# is simple and powerful. With its many innovations, C# enables rapid application development while retaining the expressiveness and elegance of C-style languages. It is remarkably scalable, consistent and easy to maintain.
You can learn and advance your C# programming skills with live, hands-on training classes at ONLC. Training is led and supported by a professional instructor who has years of programming and teaching experience. Those who don't have a programming background can learn to write good syntax in code constructs, utilize arrays and methods and more in our Introduction for Non-Programmers course while those with any programming background looking to learn C# can benefit from the traditional Introduction for Programmers class. From there move onto advanced level training so you can learn reflection and dynamic programming, multithreading, asynchronous programming plus Lambdas, LINQ, and Functional Programming.
C# programming classes are waiting for you at ONLC so you can get on your way to an IT career building mobile apps, desktop apps, cloud-based services, websites, enterprise software and games.
C# Classes, Schedule & Prices
Click the title of the classes marked with the green flag (

) to see specific locations and dates of Ready to Run classes. Click the title of the classes marked with the yellow flag (

) to see specific locations and dates of Early Notice classes.
Class Information
ONLC Value Adds
Along with outstanding training, attendees of our public, live instructor-led classes have these bonus options:
Satisfaction Guarantee
There is no better way for you to experience the quality of our live, instructor-led training than to take a class. Those not familiar with ONLC can take a public, instructor-led class risk-free knowing we offer a money-back satisfaction guarantee. See satisfaction guarantee details


Optional Class Retake
Need a second look at a public, instructor-led ILT course you already attended with ONLC? Our optional refresher course lets you repeat the same course one time (1x) for free. Some restrictions apply and not applicable for On-Demand courses. See Retake class details
News & Offers

Volume Discounts with ONLC Learning Credits
Get maximum buying power and flexibility with ONLC Learning Credits. They're a great way to prepay for training plus secure a substantial volume discount on end-user and technical training. Credits can be used for live, instructor-led and self-study, On-Demand formats. Learning credits are good for up to a year! See details & pricing

.

Training Locations Coast to Coast
ONLC provides live, hands-on classes with an online instructor at our hundreds of training centers coast to coast. Our centers are fully equipped and provide an interruption-free environment to focus on learning. Find ONLC centers near me

.

Live Classes from Home
You can attend our live, instructor-led classes from the comfort and convenience of your own home. The setup is really easy and you don't have to have the class software on your device. Follow our easy setup video

. If you're still unsure about the setup contact an ONLC Advisor toll free for assistance.

Group Training Option
ONLC offers complete learning solutions so training coordinators can quickly and successfully upskill their teams while maintaining their budget. Training can be via our public class schedule or private sessions delivered virtually or in-person on-site. We can also customize content to meet the client's specific needs and technologies. To discuss our group training options and to receive a price quote complete our quick Group Training Request form or call 1.800.288.8221 (weekdays).

Authorized Microsoft Classes at ONLC Training Centers
ONLC is a Gold Microsoft Partner for Learning. Our instructor-led Microsoft technical classes use Microsoft official materials and are taught by a Microsoft Certified Trainer (MCT).

Questions?
To learn more about live, instructor-led C# Programming classes or if you have questions contact our Education Advisors weekdays at:
1.800.288.8221
(weekdays)
Locations